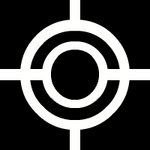 Witch Hunter (위치 헌터 Wichi Heonteo), aka WH is a global paramilitary institution designed to oppose Witches after they incited war against humans. This powerful force was made to protect humans, although among their ranks are a large amount of witches who have switched sides.
The organization existed long before the war. WH was founded by a religious group hostile to witches, whose logo was the Crossed Circle. Seven years after the witches' first attack, the neighboring countries proposed them to expand into an international organization. They also negotiated the possibility to recruit witches in WH ranks in exchange for support in various ways. Although initially against this idea, the group eventually relented. Eight years after the first attack, WH got their first witch, Edea Florence. She was the one who enabled the group to go to the next level. Later on, Diana joined as well. The role of these two witches was decisive to the organization's growth.[1]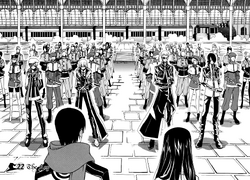 Types of Witch Hunters
Edit
A typical member of the organization is called a Witch Hunter (WH). A-Class and B-Class WHs are encouraged to form teams, but sometimes the HQ can decide to assign some agents into teams when missions are dangerous (in that case, agents from A to C-Class work in conjunction). It's not uncommon to see a special team made up of A-Class agents.[2] Each team has at least two people, all of which are in the same class and are from the same base. 
The organization has four sectors, North, South, East and West. The bases are funded by the governments of their respective regions as well as defending those nations. Each District is run by two S-Class WH administrators, but if the S-Class WH's value is worth twice their rank, they will be the only S-Class WH needed for their Center. Each base has a training area, an office area and a court to decide trials. The East HQ is known to be the weakest base and the West HQ is the most heavily guarded one, due to the Network Master's presence. The Southern Center was destroyed by South after North intentionally leaked the base's location,[3] and the Northern Center was recently annihilated by a witch working under South, named Mary.[4]
Special Positions
Edit
Network Master
Edit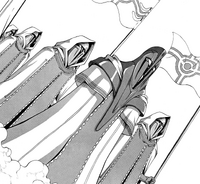 The person responsible for running the organizations magical network, they manage the distribution of information among WHs and is aware of every issue happening within the organization. Network Masters are given some authority over WHs and are capable of temporarily retracting a case in a trial. The HQ of the person holding this position is guarded with the most WHs in comparison to other bases.
This position is currently occupied by Diana Basil.
The governing body as well as the higher-ups of the organization, they are used as judges when deciding issues. They are known for their stubborn nature and has authority over all WHs, even though they aren't allowed to vote during trials.
Distributed Equipment
Edit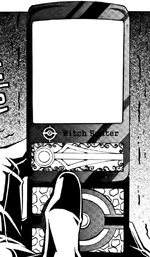 W.H Express
Edit
The W.H express is a train used only by WH. It cannot be seen by normal people and only those who are members of the organization or a witch can see it. It is used to travel to a WH base, central, or a close mission destination, although the stations are hard to find and put in deserted locations. Using the train is free, and within the train is a nursing room and lot's of mini rooms. Each mini room can hold four people, and WH who are on the same team are assigned to the same room.
References
Edit
Ad blocker interference detected!
Wikia is a free-to-use site that makes money from advertising. We have a modified experience for viewers using ad blockers

Wikia is not accessible if you've made further modifications. Remove the custom ad blocker rule(s) and the page will load as expected.